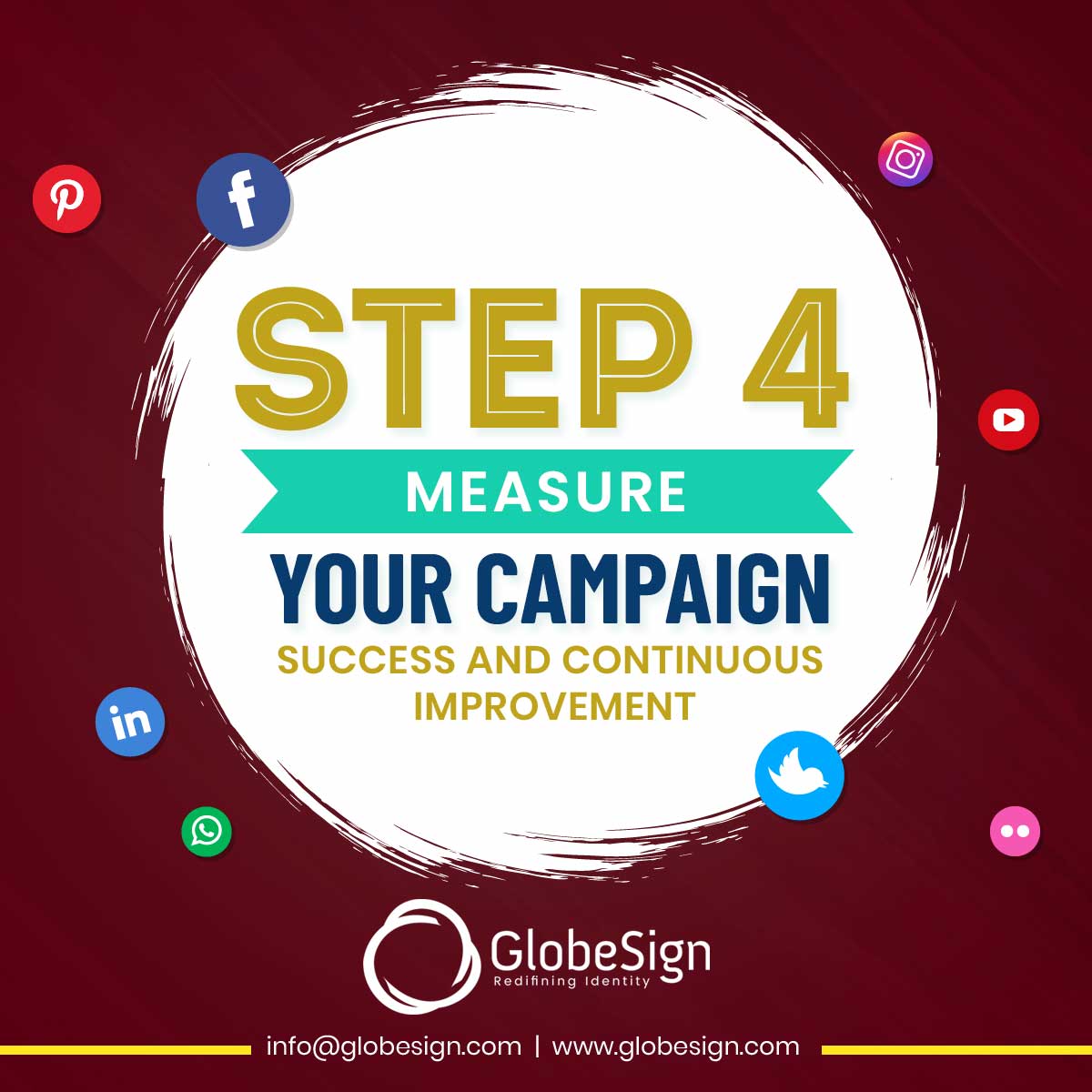 HOW TO RUN A SUCCESSFUL SOCIAL MEDIA CAMPAIGN IN 4 EASY STEPS: STEP 4
Step 4: Measure your Campaign Success and Continuous Improvement
After your campaign is finished, it's crucial to measure your campaign success so you know what worked for you and what didn't. This way, you can make changes to your social media marketing strategy for future campaigns.
First, evaluate whether your SMART goals were met. As mentioned in Step 1 of how to run a successful social media campaign, it's important to set SMART goals at the start of your campaign so you can easily measure your success. For example, if your SMART campaign goal was to" increase website traffic from social media by 20%," you can measure your success by looking at website and URL clicks.
Next, assess whether your content was consumed by your target audience.  In order to do this, go back to the customer personas you created at the start of your campaign. The more specific your customer personas, the easier it will be to measure your success. The easiest way to access this information is through your insights. Your social media insights tell you audience's location, age range, gender, most active times etc.
Then, calculate your return on investment (ROI). Your ROI is a great way to determine to which degree your social media marketing impacts your revenue growth.  The formula for ROI is:
ROI = (Profit – Expenses) Expenses x 100
Your profit is the amount of money you made from sales via your paid advertisement and your expenses are the amount you paid throughout your campaign. To read more about ROI, click here.
Best Social Media Metrics for Measuring Success
Social media metrics is data collected from your social media accounts that can be used to track your social media success. The most popular and highly useful metrics include engagements, reach, follower growth, website clicks and response rate.
Track engagement
Engagements on social media refers to how many people interact with your content. This includes likes, shares, comments, replies, retweets, and saves. Engagements are great way to see how many people are interested in your content and may buy your product/service. Engagements can also help you understand what type of content is resonating with your audience and what's not.
An example is if a restaurant evaluates their engagements after their campaign and notices that videos of their food received the more likes and shares than photos. Now the restaurant knows to leverage their videos during their next campaign.
Track reach and impressions
Reach means the number of people that see your content on their feed or timeline and impressions are the total amount that your content was exposed to people. An example of this is if you post two photos on your timeline and both are viewed by your 500 followers. This means your reach will be 500 as 500 people viewed your content, but your impressions will be 1000 because each person interacted with your content twice.
Reach is an important social media metric as it reveals the potential of your content and how impactful is it to your viewers. For example, if your reach is high but your content isn't receiving many likes, you know that something isn't working.
Track follower growth
Follower growth describes the number of followers gained on a specific platform over a given period of time. Follower growth is usually included in your account insights but can also be calculated using the formula:
(# of followers gained ÷ # of followers you started with) x 100%
Follower growth is a great metric for measuring how many people support your brand and connect with your content. Make sure to keep track of your followers' growth throughout your campaign so you can monitor any spikes or dips in your follower growth. Preferably, you want a gradual increase in your follower growth to show that people are enjoying your content and wanting to see more. If you are experiencing dips in your follower growth, analyze the content you're posting when the dip occurs. This will give you a better understanding on what content is working for your page.
Track website clicks
Website clicks refer to the number of people that click on the links posted on your social media account. The link can lead to anything from your website, the product/service you're providing, an article to a Google form. Clicks are the best outcome you can get from social media because it means that someone not only interacted with your content, but they also went the extra step to learn more about your brand/product.
Website clicks can help you test how effective your website is. For example, if you receive many clicks but are not seeing much conversion, you know the problem is not with your social media but with your website.
Track response rate
Response rate is the how often you respond to customers that interact with your page. This metric is just as important as measuring engagement or reach as it reveals how satisfied customers are with your service. The faster you respond to your DMS, comments, mentions and tagged posts, the higher your respond rate. This is a tricky metric to measure so we suggest using Google Analytics. Keep reading to learn more about Google Analytics.
Free Tools for Measuring Success
We understand that calculating the above mentioned can be both challenging and time consuming which is why we've comprised a list of free tools to help you out.
Google Analytics
Google Analytics is a web analytics service that allows you to track website activity. Through Google Analytics, you can see which social channels are driving the most traffic to your website. Using this data, you can decide which social channels work for you campaign and which don't. This way, you can either eliminate the social channels that didn't work for you or revaluate the content you're posting. In order to take advantage of this, make sure you add unique UTM links for each social platform so you can determine which one is generating the most clicks.
Facebook Insights
Facebook Insights are available to anyone who has a Facebook page. You can see page views, page likes, post reach, engagements over any period of time. You can also see how much of your page reach is attributed to organic marketing vs. paid marketing. You can use these insights to judge how well your content is being consumed and whether your paid marketing is working.
Instagram Insights
Instagram Insights are available to anyone who has a business account. These insights tell you how many followers you gained over a given period of time, accounts reached, content interactions and more. You can also use Instagram Insights for a better analysis of your audience. You can see their location, age range, gender, and most active times. All of this data can be used to decide whether you were successful in targeting your intended audience.
Twitter Insights
Similar to Instagram, Twitter insights allow you to see your follower growth over the past year. This is a great metric to track account growth and reach. Twitter insights also give you great understandings about your target audience. You can see their location, gender, time zones, which topics they are interested in and more. Additionally, twitter allows you to link your website URLs so you can see if others are tweeting your URL. You can also track clicks under the link clicks section.
About GlobeSign
GlobeSign is a Canadian web solutions and digital marketing company helping clients grow their revenues online using our Digital Marketing services including Search Engine Optimization (SEO), Social Media Marketing (SMM), AdWords (i.e., PPC, CPC) and Content Writing. We keep up to date with the latest technology and trends, and we continue to provide best in class digital marketing solutions for our clients in Canada, in the US and Globally